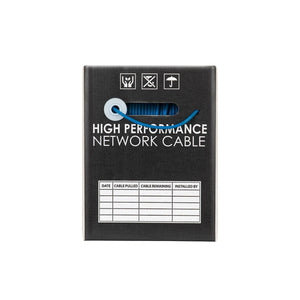 CAT 6 ETHERNET CABLE WITH SOLID CONDUCTORS 305M REEL BOX - BLUE
Cat 6 Ethernet Cables allow for better signal to noise ratio with minimal loss - which translates to faster and more reliable networks for today's applications.
Category 6 cable, commonly referred to as Cat-6, is a cable standard for Gigabit Ethernet and other network protocols that are backwards compatible with the Category 5/5e and Category 3 cable standards.
Compared with Cat-5 and Cat-5e, Cat-6 ethernet cable features more stringent specifications for crosstalk and system noise. The cable standard provides the performance of up to 550 MHz and is suitable for 10BASE-T, 100BASE-TX (Fast Ethernet), 1000BASE-T / 1000BASE-TX (Gigabit Ethernet) and 10GBASE-T (10-Gigabit Ethernet).
Applications:
Gigabit Ethernet, Multimedia, video, voice & data
Horizontal wiring in Local Area Networks (LAN)
550MHz Broadband Video
CABLE SPECIFICATIONS
Cable Type: Cat 6
Connectors: Unterminated
Length: 305m (1000ft)
Colour: Blue
Jacket Material: PVC
Diameter: 6.2mm
FEATURES
Unterminated Cat 6 in Reel Box
PVC Outer Jacket
Metre Marked
305m Reel Box
23 AWG
CERTIFICATIONS
UL listed
EIA/TIA and ACMA approved
ANSI/TIA/EIA 568-B.2-1 CAT.6
ISO/IEC 11801 CLASS E, 2nd Edition
IEC 61156-6
CENELEC EN 50173-1 CENELEC EN 50288-5-1
CENELEC EN 50288-5-2
Flame Retardancy is verified according to IEC 60332-1-2
RoHS compliance the European Union issued Directive 2002/95/EC